| | |
| --- | --- |
| | |
I was fortunate enough to have a first grade teacher who recognized my artistic ability and parents who encouraged and facilitated my growth. I began studying at 8 years old with private teachers until it was offered in high school. My first job, in high school was at a local department store designing window displays and drawing the fashion ads for the newspaper. Drawing figures and designing clothes (that my mother often would make for me) was my favorite pastime. After graduating with a Bachelor's in Fine Art from Wesleyan College in Macon, Ga. I applied and was accepted into the Fashion Institute of Technology in New York. However, an acceptance into the graduate program in fine art at East Carolina University in Greenville, NC. preceded the one from F.I.T. and for several reasons I chose to attend there. I realized that my heart was not in what I was doing and I really didn't have "anything to say" with my art so I left for a real job. That job, with the mail order catalog, Charles Keath, Ltd., afforded me the opportunity to use my creativity in many ways though painting was not among them. After 9 years and a company buyout, I decided it was time to return to art.
SIZE AND PRICE
Usually artists quote prices based on the size of the paper or canvas on which they are working and often there is more background than "face", which is a bit deceptive. T
hough I have worked from life-sized down to miniature I prefer the look of my portraits when they are about the size of a fist (which is about ½ of a life size face). I refer to this as a petite portrait because I choose to crop closely around the image leaving little background.
Pricing for an approximate 5" image on any size paper up to 8" x 10":
Child $450 unframed $600 (5"x 5"portrait) framed
Animal $550 unframed $700 (5"x 5"portrait) framed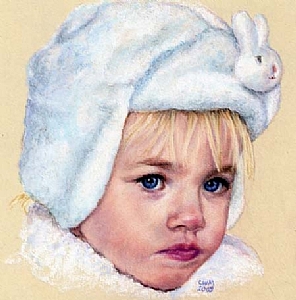 I offer 2 styles of frames: Burled wood or Burnished Silver wood. The 17" x 17" Burled wood compliments most dogs while the 15.5" x15.5" Burnished Silver works well on children's portraits. A 3 inch neutral tone-on-tone printed mat leads from the frame to a complimentary fillet surrounding the portrait which is "floated" on a neutral mat. The overall 17" or 15.5 " square size is easy to place in highly visible, yet intimate spaces.
Burnished Silver Wood Frame 15.5 "x 15.5"
Burled Wood Frame 17" x 17"
I work from a photo which the client can provide or I can take. What I stress most to clients is that they must be 100% happy with the photo from which I am working. I require that the photo be clear with no obstructions over the face or head. I am never comfortable "making up" body parts or guessing what an eye should look like when it is not totally open in a photo. There are characteristics that are not clear to me that would be to someone close to the subject and those things should be pointed out. I will gladly make enhancements not referenced by the photo like adding a specific mark on the face or filling in a lost tooth.
Again, I can't stress enough that the client must feel that the photo reflects the true spirit of the subject. The photo itself may be beautiful, but if when looking at the photo you always think it just doesn't quite capture the nature of the subject then the portrait will elicit the same reaction and you will never be 100% satisfied.
NOTE CARDS
5 x 7 deckled edge note cards and envelopes are printed on high quality warm white, 80 lb. acid free watercolor paper.
Set of 20
$60.00 (plus shipping when applicable)